We make learning FUN!
We offer excellent educational youth programs and field trips, where the Wigwam becomes your own interactive, state-of-the-art classroom (and ultimate playground for after class). We have worked with leading educators and subject-matter experts to create state-approved STEM curriculum available for student learning at all grades and levels. We make learning FUN!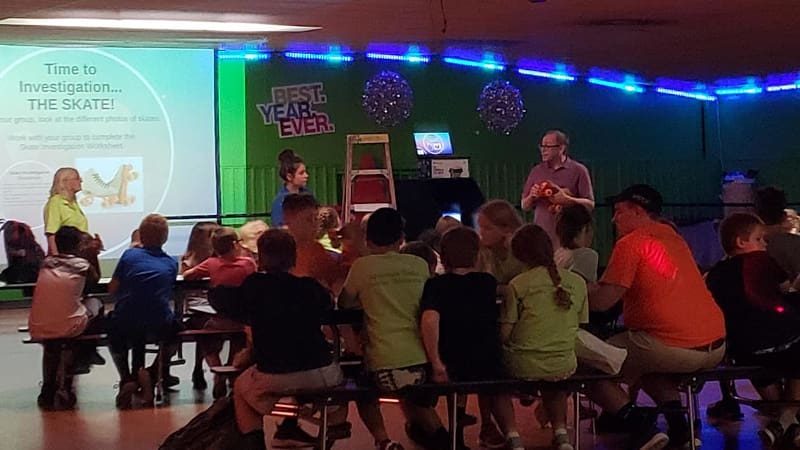 Students will experience our science, technology, engineering, math and even some art elements firsthand and will work in teams to produce or complete a project as well. Our program works with everyday STEM with in-rink student activities that coincide with state-approved curriculum. We offer fun & affordable packages that will educate and entertain your entire group!
We offer an educational field trip at the Wigwam that immerses students in STEM (Science, Technology, Engineering and Math). Our field trips all meet or exceed the state standards in both Indiana & Illinois. The STEM concepts are related to roller skating, where students will learn that STEM is all around them and not just a concept found in science labs. The students participate in an hour-long lesson, including hands-on STEM activities taught by a dynamic STEM educator. After the lesson, the students will participate in two hours of roller skating. We also can offer a basic learn-to-skate lesson while students are visiting the skating center. This private event is available for groups with at least 50 students. What is more, mealtime for your group can be a breeze when you select our all-inclusive lunch package or all-you-can-eat-pizza package.
Package 1: STEM Lesson & Group Activity, Admission, & Skate Rental
Package 2: STEM Lesson & Group Activity, Admission, Skate Rental, Choice of Lunch Option
Lunch Option 1: Pizza slice, chips, soda or juice
Lunch Option 2: BBQ sandwich, mac & cheese, & soda or juice
Lunch Option 3: Two tacos & soda or juice
Package 3: STEM Lesson & Group Activity, Admission, Skate Rental, Soda or Juice, and All-You-Can-Eat Pizza